Black Friday is already around the corner. To be able to get the most out of the Black November sales events with Google Shopping campaigns, you have to be fully prepared. Check out the 10 useful Google Shopping tips for Black November 2023 below.
Table of Contents
Tip #1. Check and Analyse the Statistics from Last Year's Black November
Dive deep into the numbers and revelations from last year's Black November first and foremost. This will help you build more or less plausible assumptions on how your industry and your shop in particular could perform in the upcoming chain of November sales events. Here are a couple of good sources with some food for thought.
After digging into all the numbers and stats for the last year, don't hurry to make the conclusions just yet (see tips #2, #3, and #4).
Tip #2. Study Market Forecasts for the Upcoming Black November
Together with the stats from last year, study and research the forecast and predictions for this year's Black November. During the past 4 years, a lot of events have happened, and those have heavily affected e-commerce overall as well as seasonal sales events across the globe.
To put it mildly, we've been witnessing a decline in stability, so trying to look ahead and predict what could happen is a necessity now, not an extra option, especially when it comes to forecasting the performance of a specific industry or overall spending on Black Friday from the shoppers.
Tip # 3. Analyze Your Store's Black Friday Performance from Last Year
To have a successful Black November in 2023, it is important to analyze how your store performed on Black Friday last year. Here are three key things to consider:
Product Performance Analysis
Identify the best-selling products from the previous Black Friday period. Look for patterns in product categories or specific items that consistently sold well.
Identify products that did not meet your sales expectations and understand why they underperformed. Factors like pricing, presentation, or competition could be the cause.
Evaluate how well you managed your inventory last year. Did you run out of stock for popular items too quickly or overstock items that didn't sell well? This analysis can help you improve your inventory management strategies for the upcoming Black November.
Attribute and Product Description Efficiency
Review the attributes you used for your products in your listings. Were there specific attributes that attracted more clicks and conversions? For example, did including details like size, color, or special features positively impact product visibility and sales?
Analyze the product descriptions you used for your listings. Were they clear, informative, and compelling? Assess whether certain types of product descriptions led to better conversion rates.
Evaluate the efficiency of your product feed or feeds. Make sure your product data is accurate, up-to-date, and well-structured. Consider optimizing your feed based on the performance of different attributes and product descriptions.
Overall Campaign Performance Evaluation
Evaluate the performance of your Black Friday campaign by looking at where your traffic came from, such as Google Shopping ads, organic search, social media, or other channels. This information will help you allocate your marketing budget effectively for next year.
Calculate the conversion rates for your Black Friday campaigns to see which ones performed well and which ones need improvement.
Analyze the overall return on investment (ROI) for your Black November 2022 campaigns by considering ad spend, product costs, and revenue generated. Identify the campaigns that provided the highest ROI and make adjustments to increase profitability.
By analyzing your store's past Black Friday performance, you can make informed decisions and optimize your strategies for Black November 2023. This data-driven approach will help you capitalize on your strengths, address weaknesses, and achieve greater success during this important shopping period.
Tip # 4. Audit Your Current Product Data
Auditing your current product data is a critical step in your Black November 2023 preparation process. This process involves thoroughly reviewing and ensuring the accuracy of the information you plan to present on Google Shopping. Here's an in-depth explanation of why this step is essential and how to go about it:
Data Accuracy and Integrity
Product Feed Review: Start by examining your product feed, which serves as the foundation for your Google Shopping listings. Check for any errors or inconsistencies in your product data. Ensure that product titles, descriptions, prices, and other attributes are up-to-date, accurate, and comply with Google's guidelines.
Price Accuracy: Verify that both the regular and sale prices are correctly listed. Any discrepancies can lead to trust issues with potential customers and result in lost sales opportunities.
GTINs (Global Trade Item Numbers): If your products require GTINs, double-check that these unique identifiers are correctly associated with each item. Accurate GTINs help improve product recognition and can positively impact your product's visibility on Google Shopping.
Bidbrain Feed Checker
Utilize tools like the Bidbrain feed checker to scan your product feed for errors that may have been overlooked. This automated tool can quickly identify issues related to product data, helping you address them before uploading your feed to Google Merchant Center.
The feed checker can assist in spotting discrepancies in product titles, descriptions, prices, and attributes, ensuring that your product listings are in optimal condition before they go live.
Data-Driven Decision Making
By ensuring the accuracy and quality of your product data, you are better positioned to make data-driven decisions. Accurate data provides a solid foundation for creating effective advertising campaigns and improving overall performance.
This step is crucial for aligning your product offerings with market trends, customer expectations, and the upcoming Black November forecast for 2023.
Performance Expectations
Accurate product data directly influences the performance of your Google Shopping campaigns. When your product listings are error-free and well-optimized, you're more likely to attract potential customers and drive conversions during the Black November sales period.
Consistency and accuracy in product data also enhance your store's credibility and trustworthiness, making customers more likely to choose your products over competitors.
Auditing your current product data is a vital part of your Black November preparation. It ensures that your product listings are accurate, up-to-date, and in compliance with Google's requirements. By taking these steps, you'll be well-prepared to make informed assumptions about your store's performance during the upcoming Black November, and you'll maximize your chances of success during this crucial shopping season.
Tip # 5. Set up the Black November Google Shopping Campaign
Ok, now that you're fully armed with Black November knowledge and insights as well as got all of your store's product data fixed, it is time to set up the Black Friday Google Shopping campaign. Basically, you should do the following.
Create a separate campaign with items related only to Black November. For convenience, try setting up several campaigns if you're not only aiming at Black Friday but also Cyber Monday, St. Andrew's Day, or any other holiday or sales event that is happening around the date as Black Friday in your country or region.
Set the goals for your Google Shopping Black Friday campaign. Clearly decide what you want to achieve with the campaign, e.g. increase revenue, ditch the unsold stock, etc.
Make sure your Black November sales campaign has a higher priority than usual campaigns.
Allocate a separate, bigger budget. Don't mix the money you'll be spending on the Black Friday sales campaign with your overall budget.
Label the ads in the right way to differentiate them from other campaigns.
Tip # 6. Make Sure the Feed Attributes are Optimized for Black November
The titles and descriptions of the products you're pushing through Google Shopping to your potential customers should be fully optimised for the Black Friday sales.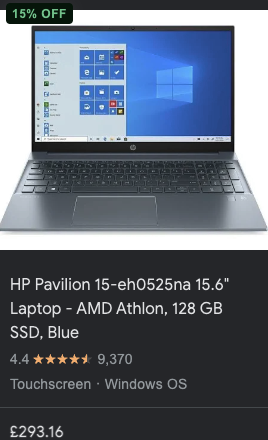 When adding titles to the products on your Black Friday catalog, be distinct when creating titles for product variants, like size, material, colour, etc. See an example of a quality Google Shopping product title above.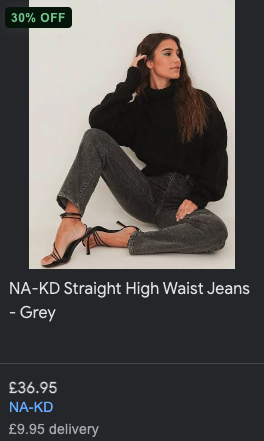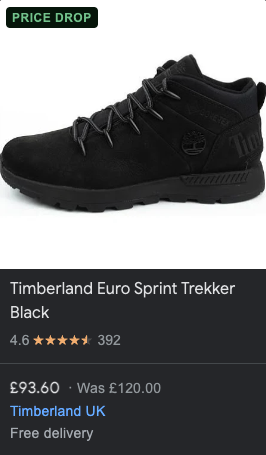 Add [sale_price] attribute, discount number, or price drop annotations to highlight the before and after prices.

Use custom labels. With Shopping campaigns, you can use custom labels to subdivide the products in your campaign using values of your choosing. For example, you can use custom labels to indicate that products are seasonal, on clearance, best sellers, etc. With Bidbrain, you can use an unlimited number of custom labels.
Tip # 7. Set up the Bidding Strategy
The approaches to the Black Friday bidding strategy on Google Shopping are the following.
If you are using automated strategies or target ROAS/Performance Max, increase your target CPA or decrease your target ROAS.
Increase your bids if you are using manual bidding.
Use bid adjustments to increase bids for all products on sale.
Use seasonal bid adjustments for Performance Max campaigns.
For the past years, AI has become really good at optimizing and implementing ad bidding strategies. For example, with Bidbrain AI bidding you can
maximize return on ad spend for each product
activate products without historical data—Bidbrain's activation algorithm finds the hidden high performers in your feed
set up your product segments to let the AI work towards custom target ROAS or POAS
enjoy fully transparent data that belong to you and help to visualize the bidding & keywords data on the product level
maximize your ROAS and give you full control over your sales volumes
Use the Bidbrain Sale Push campaign type that will maximize the daily number of product impressions—this campaign type will adjust hourly bids to find the sweet spot.
Also, our customer care team is always happy to help you with developing the best bidding strategy. 
Get the Most Out Of Your Shopping Ads
Tip # 8. Use Promotions Feed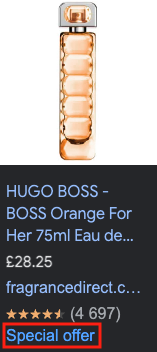 Try using a promotion feed that specifies which promotion each product should belong to. This way you won't need to alter the main feed product by product each time you'd need to release a promotion. A product from a promotion feed will also show up in your advertisements and will make your product offerings stand out.
Tip # 9. Schedule Multiple Updates
During big seasonal events, like Black November, the stock is usually running out fast, so it is important to keep your feed updated. With Bidbrain, you can
always keep your feed fresh and updated
automatically push the sales items harder during seasonal sales
maximize impressions and clicks during the peak days.
Tip # 10. Make Sure the Product Landing Pages are All Set
| | | |
| --- | --- | --- |
| Classification | Transactions | Percentage |
| Actual product | 41 | 45.05% |
| Different category | 28 | 30.77% |
| Different product variant | 12 | 13.19% |
| Similar product | 10 | 10.99% |
Source: SavvyRevenue
Statistics show that up to 60% of the products on Google Shopping lead to the customer buying a different product than the one they clicked on. This means that you should invest time and effort in Black Friday tweaks across your product landing pages: push your Black Friday campaigns/voucher and sale prices on all your product landing pages within the Black November campaign. 

Get the Most Out Of Your Shopping Ads