The default (primary) product feed on Google Shopping is often enough to set up a successful advertising campaign. At the same time, by experimenting with different Google Shopping feed types and optimizing them, you can significantly improve your shop's performance. This includes
improvement in ad spend
increase in CTR
overall improvement of ROAS.
In this article, we will guide you through the seven different types of Google Shopping product feeds.
Table of Contents
Google Merchant Center primary Feed
This is the mandatory feed for every online store owner on Google Shopping. Google Shopping primary feed is used to provide Google Merchant Center with all of the product data related to your catalog. The attributes you'll have to add to your products within this feed include
id
title
description
link
image_link
price
condition
availability
brand
gtin (for products without GTINs, use the identifier_exists attribute).
For clothing/apparel goods, you'll also need to provide these attributes:
age_group
gender
color
size
material.
Also, there are a couple of optional attributes that you should not ignore: product_type and google_product_category. By providing those, you can raise the chances of your products being shown to the right audience in Google search results.
You can read more attributes here.
Google Merchant Center Supplemental Feed
Google Shopping supplemental feed is a relatively simple, yet powerful tool. Primary feeds and supplemental feeds are connected via ID property. When the IDs in the two feeds match, the product data in the Primary feed gets updated or supplemented.
With a supplemental feed, you can provide additional product information and data missing from your primary feed without updating the former. Your primary feed remains intact and gets enriched with over 50 additional attributes at the same time. For example, with supplemental feeds, you can
override item attributes
add/override sale information
add/override custom labels information
add/override custom labels
add missing GTINs (Global Trade Item Numbers)
fix Google Merchant disapprovals and errors
add local inventory information for local inventory ads
exclude products with the excluded_destination attribute.
What are the Benefits of Using Google Shopping Supplemental Feed
Google Shopping supplemental feed offers several valuable benefits:
Better Targeting. You provide more data to Google and get more relevant targeting, as a result.
Getting the Most out of Big Events. You can tailor your offerings to big seasonal events, e.g. sales, without undermining your primary feed.
Competitive Advantage. You can place more diverse offerings via shopping campaigns compared to the ones of the competitors.
Smooth Updates. You can easily introduce changes in bulk and save time.
Incorporating a supplemental feed into your Google Shopping strategy empowers you with more control, flexibility, and efficiency, ultimately improving your campaign's performance.
Google Promotions Feed
Google promotions feed, or Google Merchant Promotions is a good solution for increasing the CTR of your ads. Currently, this feed is available for a limited number of countries, including
USA
UK
Australia
France
Germany
India.
To use Google Merchant Promotions, you'll need to submit a Merchant Promotions Interest Form. After your submission gets approved, you'll be able to create a promotions feed type in your Google Merchant Center account.
The promotions feed contains 6 required fields:
promotion_id
product_applicability
offer_type
long_title
promotion_effective_dates
redemption_channel.
Optional attributes include:
promotions_display_dates
description (not shown to users)
generic_redemption_code
image_link
fine_print
promotion_price.
The following promotion types are allowed: discounts, free gifts, and shipping. Remember that your Google Merchant Promotions cannot last longer than 6 months and must comply with the following rules.
Be clear with the discount numbers you indicate in the offerings. E.g. a discount should be either 10£ or 10%. it should not say "up to 10£/10%". Cashback in% and reward points are allowed only if combined with a permissible promotion.
Do not introduce harsh rules for potential shoppers, e.g. free extra items for the first 5 customers or special offers only to a limited group of users (for example, users of a specific online payment system, medical workers, etc).
Give out real physical items or gifts. These must not be subscriptions, samples, etc.
Provide redemption codes for shipping discounts, do not combine those with a permissible promotion.
Ensure that your promotions are redeemable at checkout or by the time of purchase.
Google Local Inventory Ad Feed
According to Google, 78% of holiday shoppers browse products online before going to a physical store to pick them up. The other statistic suggests that searches for "open now near me" have grown globally by over 400% YOY. That's where local inventory ad (LIA) feed becomes extremely useful for shop owners.
You can solidify the connection between the online Google Shopping ad and the brick-and-mortar business location with the local inventory ad (LIA) feed.
You can use Google local inventory ad feed to
help buyers understand if the store is near enough to visit
improve on-location footfall.
The required local feed attributes are
store code
id
quantity
price.
The optional attributes include
sale price
sale price effective date
availability.
To create a feed, you must be located in one of the following countries:
Australia
Austria
Brazil
Canada
Denmark
France
Germany
apan
Netherlands
Norway
Sweden
Switzerland
the United Kingdom
the United States.
And you'll need to have three accounts to be able to use LIA feed:
Google Ads account
a Merchant Center account
Google My Business Locations.
How to set up a local inventory ad feed
Activate local inventory ads feature. NOTE You'll also need to verify your 'About' page if you are located in Europe.
Create your local inventory ads feed. NOTE If you have multiple stores, you'll need to create a stand-alone feed for each store.
Register and submit the created feeds.
Submit a verification request for your inventory.
Activate your local inventory ads for your Google Shopping campaigns.
Also, ensure you follow the policies below.
You have a store with a physical location.
You allowed all Shopping Ads policies.
You are not collecting any personally Identifiable Information from customers.
You don't require any type of membership from shoppers so they can purchase the products from you.
What type of local inventory ad feed to choose
A full local inventory ad feed may fit those stores that don't need lots of daily updates. It includes your whole inventory.
Incremental local inventory feed is a choice for shops that are actively updating their product data on a daily basis. To make your feed incremental, go to Merchant Center -> Product -> Feeds -> Settings. Then, check the "Retain items no longer provided in the feed" option.
How to start using local inventory ads without creating a local ad feed
There is a way for retailers to engage in local inventory advertisements or free local product listings through the local feeds partnership programme. You won't have to make your own primary and local product inventory feeds. On behalf of merchants, POS/inventory data providers can submit sales and inventory data to Google. Learn more about the local feeds partnership program here.
Get the Most Out Of Your Shopping Ads
Google Manufacturer Feed
Google tends to differentiate between manufacturers and resellers. If you're selling your own products, connect Google Manufacturer feed to
get more control over how your products are presented to consumers on Google Shopping, Google search results in general, and other Google services
provide a better brand experience to shoppers with consistent and standardised enriched product information
provide consistent information to resellers by using GTINs—Global Trade Identification Numbers (NOTE you can add an MPN (Manufacturer Part Number) in addition to the GTIN)
extract deeper insights into competitors, product performance, and more.
To use this feed type, you'll need a manufacturer account. You can create 20 feeds per country.
Here are the 6 required fields for Google Manufacturer feed:
id
gtin
title
description
image link
brand.
It is a good practice to also add as many additional and optional attributes as possible. This will help customers find the products that fit their exact needs. Additional and optional attributes for Google Manufacturer feed include:
mpn
product line
feature description
additional image link
product name
product type
video link
product page url
disclosure data
rich product content
release date
suggested retail price
product detail.
Dynamic Remarketing Feeds
With a dynamic remarketing feed, you can recapture the attention of potential shoppers that saw your products but have not bought them yet. You can create responsive ads to target repeat customers and potential leads that fall through different stages of the buyer's journey.
To use a dynamic remarketing feed, you will need to
submit your data feed through Google Merchant Center
wait up to 3 business days for your feed to get validated
interlink your Google Merchant Center and Google Ads accounts
create a dynamic remarketing campaign.
Also, you'll need to match the following requirements to be able to run dynamic remarketing campaigns:
on your website, a Google remarketing tag must be installed
a minimum of 100+ users must visit your website and get tagged
conversion tracking with transaction-specific values must be set up
your Google Shopping campaigns must reach a minimum of 20 conversions in the span of the last 45 days
you must comply with the Personalized advertising policies.
Product Rating Feed
Showcasing product ratings on Google Shopping ads can become an extremely efficient way for attracting more customers to your shop. If you have 50 or more reviews on a product, you can choose to have them displayed alongside your Google shopping ads by adhering to the feed requirements. Also, you'll need to sign up for Product Rating program.
There are three ways to get your reviews connected to Google shopping ads:
Google customer reviews
Merchant Center
third-party reviews aggregator.
How Google Collects Data for Product Rating Feeds
If you're using a third-party aggregator, you won't need to submit the feed itself because Google will be fetching the data right from the aggregators.
If the reviews are collected from the retailer's website, you'll need to te create a Google Product Rating Feed to provide the needed data to Google.
Setting up this feed can help you make your product more attractive to buyers. You can learn more about product rating feeds here.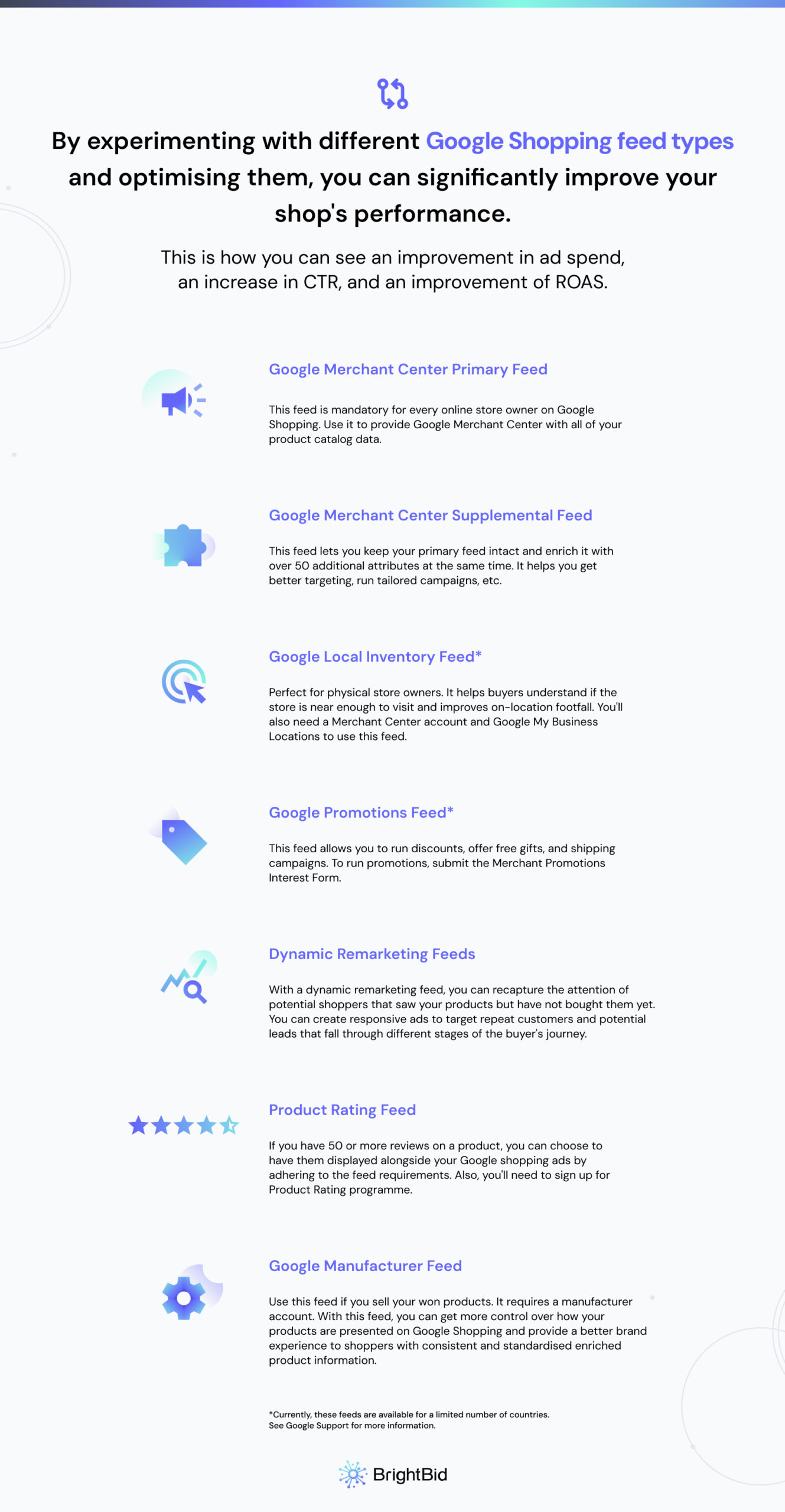 Google Shopping Best Practices for Setting Up a Product Feed
The below Google Shopping feed best practices work for any type of feed mentioned in this article.
Handle the feeds with tools that work for you, e.g. manual tools, plugins/extensions, or content API.
Reupload the feed every 30 days to ensure that Google is using the latest and correct data for shopping ads.
Don't switch items between different shopping feeds. If you want to include a product in two or more feeds, create a separate product id for each feed.
Don't create massive feeds, try breaking extensive product lists into bits and disperse them between different feeds.
These Google Shopping feed best practices are your guide to excellence, regardless of your feed type. By adopting these practices, you pave the way for a thriving Google Shopping campaign, driving your business toward advertising triumph.
Get the Most Out Of Your Shopping Ads